Fitness Blog - Sports and Medicine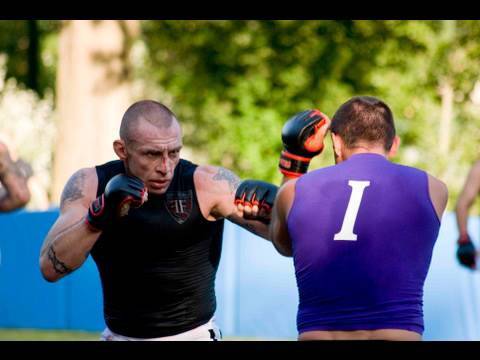 Has anyone else ever heard of the FFL? A friend of mine sent me a link the website the other day and I could hardly believe my eyes! The FFL or
Fight Football League
is a professional sports league in Italy that combines football, rugby, boxing and mixed martial arts. It's based on an ancient Roman game called Harpastum and was used as a way to prepare gladiators for battle. It's apparently the foundation of modern Soccer and Football and is still played once a year, and has been since the 1500's in Florence, Italy under the name "Calcio Storico".
The objective of the game is to score a goal but on the way to doing that you might have to get into a couple of serious brawls! There are some rules though.. you can only fight one on one, you can't hit while you're running, no strikes from behind and you can't kick a guy when he's down. Sounds pretty fair to me!
Players come from all different types of sports including calcio storico, rugby, boxing, wrestling and MMA. This sport is only being played in Italy right now but I'm sure as exposure and popularity grow, it will eventually expand into other European markets and then who knows.. maybe one day we'll have a North American league.
Sports Medicine article by Ben on Friday, September 17, 2010 12:57:08 AM EST
I normally wouldn't write about something so gruesome but I'm still trying to wrap my head around this one.. it's almost too crazy to believe!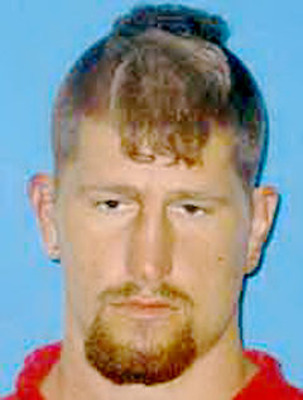 A so called "cage fighter" from California named, Jarrod Wyatt, is accused of brutally murdering his training partner after they drank some tea that had been spiked with some psychedelic mushrooms. A witness claims that after they both ingested the mushrooms, Wyatt became paranoid that his friend was possessed by the Devil so he cut open a giant hole in his chest and ripped out his heart while it was still beating! WTF?!?!?!
After he tore his heart out, he wasn't quite finished. Wyatt also cut off his tongue, tore off most of his face and removed several other organs which he then burned in a wood burning fireplace because he was fearful his friend was still alive and he "needed to stop the Devil". When police arrived at the scene, Wyatt was apparently standing over the corpse buck naked and covered in blood from head to toe in what the officers described as a scene from a horror movie!
A lawyer representing Wyatt is trying to claim that his client was in a hallucinogenic, self induced psychotic state at the time and had no control over his actions. "He was trying to silence the Devil" claims James Fallman. "I think he was having psychotic fit based on the mushrooms he had." Wyatt has been charged with first degree murder and torture. Torture was added to the murder charge because his victim was still alive when his heart was removed and bled to death as a result.
This is such a crazy story and is almost too much to believe but I don't really see how it's relevant that this guy was supposedly a mixed martial arts fighter. As if that somehow made him more prone to such a violent outburst or had something to do with this gruesome attack. He could have easily been a plumber, school teacher, stock broker or taxi cab driver, just look at what happened in Britain this past week. Anyways my heart goes out to the victims family.. this is a very sad and unfortunate event and I really hope that justice is served.
And kids, say NO to drugs!
Sports Medicine article by Ben on Saturday, June 05, 2010 7:10:57 PM EST
So we're one week into the 2010 Winter Olympics and I have to say that so far, it has been such an awesome experience! George and I are lucky enough to live in Vancouver and I have been out almost every day just walking around trying to absorb as much of this Olympic experience as I possibly can! The weather has been absolutely beautiful, the streets are packed with happy, enthusiastic fans from all over the world and the feeling of Canadian patriotism is the highest that I have ever felt in my entire life!
I've watched the Olympics in the past and have always been a big sports fan but knowing that all these athletes are competing at such a high level right in my own back yard is just so awesome! I've found myself glued to the t.v. this past week watching sports that I normally wouldn't watch like long and short track speed skating, biathlon, down hill skiing and the skeleton and I am blown away by the concentration, dedication and all out effort that each athlete puts in to their performance no matter what sport they are competing in.
I'm not going to lie.. I wasn't so sure about these Olympics before they got to town but I have to admit that I've now totally jumped on the Vancouver 2010 bandwagon and will be celebrating and enjoying the games as much as I can for the next ten days!
GO CANADA GO!!!
Sports Medicine article by Ben on Friday, February 19, 2010 7:34:04 PM EST
Have you ever suffered from tennis elbow? I've had it a few times over the years and I can tell you that it is absolutely brutal! It is one of the most painful, debilitating and nagging sports injuries that I have ever experienced and apparently it is also one of the most common.
Tennis elbow is the inflammation or degeneration of the wrist-extensor tendon that connects to the elbow. It is most often an overuse injury and not only affects tennis players but golfers, plumbers, mechanics, painters and anyone else that uses their wrists and forearms extensively. Tennis elbow causes the tendon to weaken, it can be very painful and is quite easy to re-aggravate because the average person flexes and extends their forearms many times throughout the day.
Treatments for tennis elbow include acupuncture, deep tissue massage, corticosteroid shots and even surgery but all have had limited success in the past. Researchers at the Nicholas Institute of Sports Medicine and Athletic Trauma at Lenox Hill Hospital in New York City have recently announced that they have developed an easy, effective and very inexpensive treatment for chronic tennis elbow. The scientists put together a group of test subjects who all suffered from tennis elbow and had them try a choreographed routine using a ribbed, 8 inch rubber bar called the Thera-Band Flexbar.
The simple routine focuses on eccentric contractions all along the forearm which causes the damaged tendon to become less thick and helps to relieve the painful symptoms associated with ailment. I've attached a video below so you can see how easy the movement pattern is and is it really does work as well as they claim it does, it would be well worth the investment.
Sports Medicine article by Ben on Tuesday, September 15, 2009 6:37:28 PM EST